LAURA NICHOLLS
COPYWRITER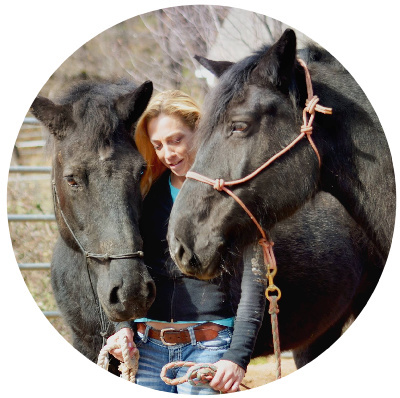 As a formerly licensed Marriage and Family Therapist, I worked with teens and their families in various treatment settings for 14 years. It was through this work that I developed my love and respect for horses and came to understand their profound power for affecting change and healing. I also became certified in Equine Assisted Learning and Therapy, and currently live among and care for horses daily.
It was through my work as a clinician that I developed a deep respect for the profound impact words can have on the lives of others. Writing was a primary vehicle for communicating to the world about the history, status, and needs of the youth and families I was honored to work with and I approached this responsibility with the utmost care and concern for their well-being. 
While my favorite part of this work was by far the daily interaction with the kids I served, I valued the opportunity to advocate and ensure services for them through the written word as well.
I have owned and run a brick and mortar business (a coffee shop), and have been blogging and adventuring online since 2013. My background as a therapist, combined with having been a business owner in both the off and online spaces, has gifted me with a unique skill set of excellent communication and intuition as well as a commitment to integrity.
The way you do anything is the way you do everything. These are words I live by.
I am a single mother to a bright and beautiful 5-year-old daughter. I love everything about being a mother and my commitment to the success of my clients and my business is also a commitment to my child. As a mother and business owner, I am deeply grateful for the ability to be by her side every step of the way.
My journey as a parent has been the greatest honor and adventure in growth, and the privilege of modeling for my daughter how to be a woman of strenth, grace, and integrity in all things is one I take to heart.
I have been an athlete for over 30 years. I attended the Olympic Training Center in San Diego, California and competed at a national level in my college sport, crew. I have also been a bodybuilding and figure competitor, taking first place in my last competition in 2013. As a busy business owner and mother, I maintain my commitment to physical health as it's an integral aspect of what truly centers and grounds me.
The commitment to discipline that being an athlete has taught me has been invaluable in so many aspects of my life. This has absolutely served me in regards to the level of quality I pursue in my work. My background in fitness and as a personal trainer has also provided me with a love of coaching, motivating, and encouraging others. I find it both inspiring and fulfilling to join with someone in the pursuit of their vision and dreams, and an honor to be able to bring that vision to life through the written word.